NEW ROAST FINISH
Napasol adds a roasting step in its pasteurization lines. The step immediately follows pasteurization and offers a 50% reduction in roasting energy consumption. Roasting parameters can be applied specifically to develop nuanced flavors on the pasteuried product.
STATISOL® - Pasteurizer
The Napasol Statisol is the best pasteurization solution for nuts and seeds. Loaded in bins the product is protected from mechanical damage minimizing waste and down time for cleaning. The highly effective saturated steam applied is dry, the Statisol line is dry, there is no moisture pick-up, and no drying step is necessary. Statisol lines are validated for Almonds (TERP approved), Walnuts, Cashews, Hazelnuts, Macadamia, Pistachios, Brazil Nuts, Pecans, Pine Nuts, and all Oil seeds.
Visit our Virtual Booth to find out more about this technology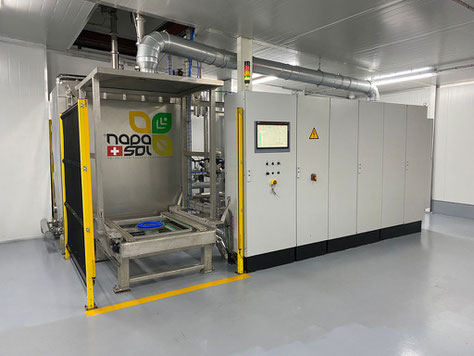 1-Bin Pasteurization Unit located in South Africa for Macadamias
ROTOSOL ® - Dynamic Sterilizer
The Napasol Rotosol is the sterilization solution of choice for seeds, herbs, spices and powders. The saturated steam applied is dry, there is no moisture pick-up, and no drying step is necessary. Gravity loading and unloading is efficient and the autoclave rotation keeps the product free flowing and blended. The Napasol Rotosol provides a high level of microbial reduction in pathogens (>5log) and Total plate count including resistant spores.
Visit our Virtual Booth to find out more about this technology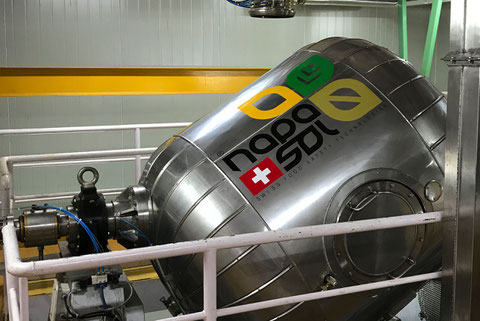 Dynamic Pasteurization Unit (2m3 volume) for spices located in India